Southern Brown Bandicoot & Wildlife Education Program
Aims:
To raise awareness of the endangered Southern Brown Bandicoot and other significant biodiversity on the Port Campbell headland.
Education through the study of wildlife on the Port Campbell headland.
Recording numbers of Southern Brown Bandicoots and other significant species for the DSE Biodiversity Atlas.
Identification through photos and films from remote fauna cameras placed on the headland -
use of books, fliers, internet articles, and specialists' assistance.
Photos or films may be used for school projects.
To start a South West Threatened Species Recovery Program to provide a plan of action to recover threatened species in South West Victoria, and implement the actions: identify, list and record threatened species.
Identify significant habitats for any threatened species, feral and uncontrolled animal threats and management.
Ensure that threatened populations and their habitat are legally protected.
Raise public awareness and education of threatened species.
Involve all stakeholders.
The recovery program is to be based on the SE Southern Brown Bandicoot Recovery Program but extends its list of species to any which are listed a under the Commonwealth Environment Protection and Biodiversity Conservation Act 1999 (EPBC Act) and the Victorian Flora and Fauna Guarantee Act 1988 (FFG Act).
The Port Campbell Community Group with partners the Port Campbell Boardriders received a $25,000 State government Coastcare grant (August 2012) to raise awareness on the endangered Southern Brown Bandicoot.
The funding included:
An Ecologist Report to assess and make management recommendations for the headland's significant biodiversity including Southern Brown Bandicoots.
Purchase 4 remote cameras for the research and education program to monitor Southern Brown Bandicoot and other significant biodiversity including Swamp Antechinus, Rufous Bristlebird and Buff Banded Rail for the DSE Biodiversity Atlas database.
An educational forum on the Southern brown Bandicoot and threats to the bandicoot.
An educational program with school workshops and competitions to design wildlife stickers and posters of the endangered Southern Brown Bandicoot to raise awareness of the headland's highly significant biodiversity.
Signs were created from art produced in printmaking workshops. Students' and artists' work was exhibited (13-14 January 2013) at Port Campbell's historical hall in conjunction with the community market.
Tree planting and weeding to improve bandicoot habitat and to to protect and improve biodiversity and connect the vegetation modules to increase the wildlife corridor and remnant habitat and protect the fragile cliffs by improving geological stability through tree planting to arrest erosion.
Fieldwork for wildlife monitoring program.
The Program increased community partnerships and the educational programs encouraged stewardship and ownership of the town's environmental assets.
This Program is a result of a State government Coastcare grant to the Port Campbell Community Group Inc with partners the Port Campbell Boardriders Assoc.
Coastcare Grant Activities: School Education Program:

2 schools participated in onsite headland talks 2 schools participated in classroom talks and activities. Students were involved in poster & sticker design. A talk was given to students with the PowerPoint demonstration then given to the teachers for future reference.
Bandicoot Stickers 1000 stickers were printed (10 designs). These were a result of the student poster and sticker competition. The stickers were a great success at the art exhibition.

Bandicoot Posters 2 designs were printed – one from an adult and one from a student.
Printmaking workshops were conducted to produce signs 5 days with 15 artists participating. Many artists said it is the greatest time they have had for many years – and all were very excited about the workshop and learning more about the bandicoots. 12 bandicoot linocuts were made and 20 etchings. Many artists made donations to assist ongoing wildlife research.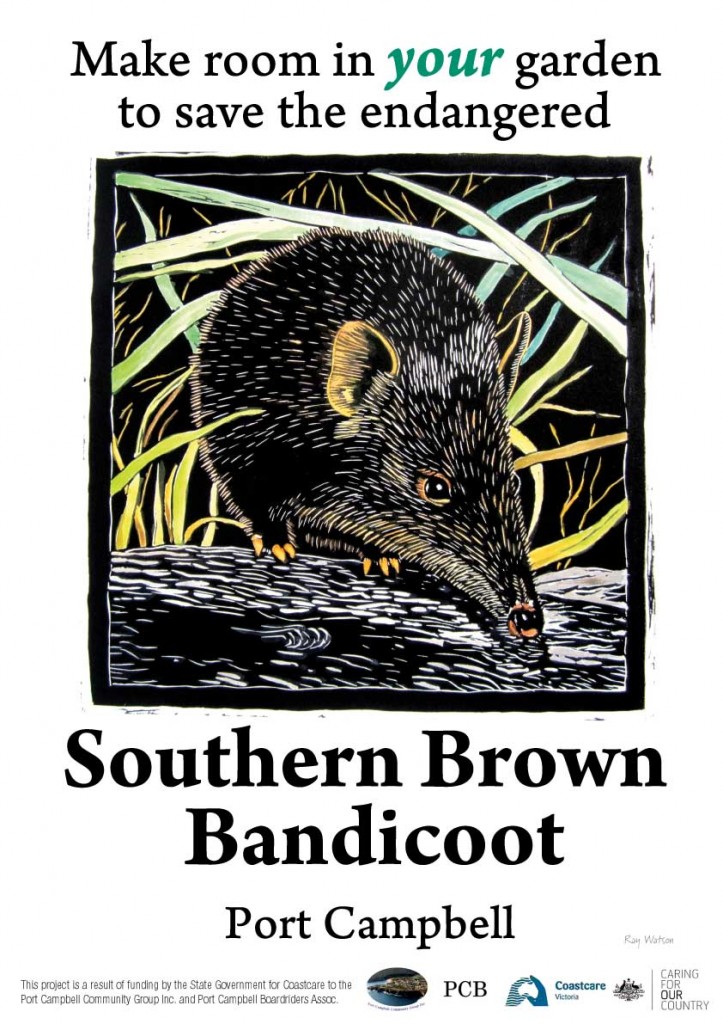 Bandicoot & Wildlife Art Exhibition
Cr Neil Trotter opened the exhibition with Cr Wayne Oaks and his wife Judi also attending. Young people received a sticker and a poster for drawing a Southern Brown Bandicoot – there were 15 entries; 5 families received a bandicoot cookie cutter. Over 300 people attended the Art Exhibition across 2 days.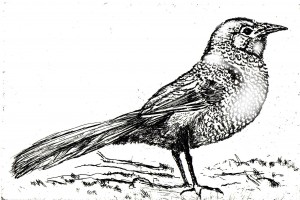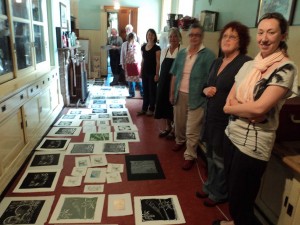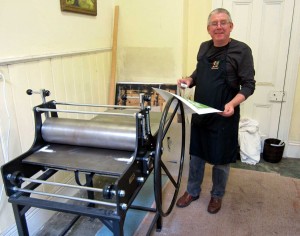 Comments included:
Very clever and beautifully presented.
The workshops and resultant work fantastic – thanks .
Well done community group and clever artists – great way to promote the Southern Brown Bandicoot and local artists as well.
Brilliant work from accomplished artists.
Fabulous time creating our native bandicoots and flora.
Great to be able to present it to the public and see their input.